Just 250 metres from Għarb church, in one of the quiet roads that eventually wind to Gozo's immense limestone arch formation Wied il-Mielaħ, the front of this house boasts a wide front door in rich wine-red and a carved stone balcony with views across the fields beyond. It's clear from the outset that this is an impressive village home, and here in this rural location, the house is a stunning fusion of the best features of a townhouse and a traditional farmhouse.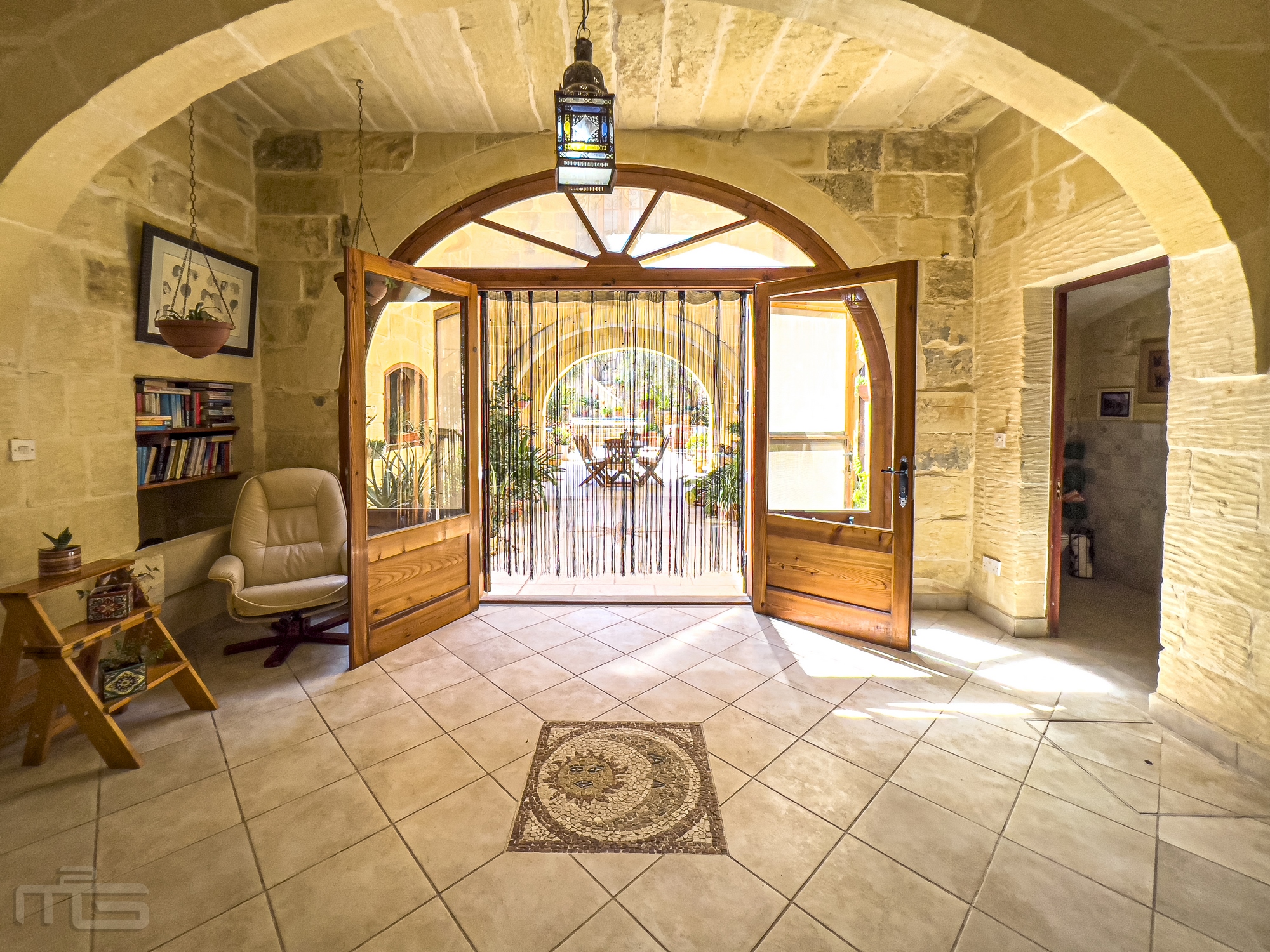 The hallway is grand, with traditional Maltese tiles, from which stairs directly ahead lead to sweeping stairs flanked by old stone walls with decorative detailing and arches, warm rust-red tiles in the risers heralding your way. To the left there's a giant versatile downstairs space, subdivided primarily by arches into a large kitchen and three other rooms so that whilst there are distinct areas, it feels rather open plan. Flooded with warm light, these rooms have traditional beamed ceilings of kileb and xorok – higher than those found in than many razzetts – and neutral floors which imbue a sense of calm.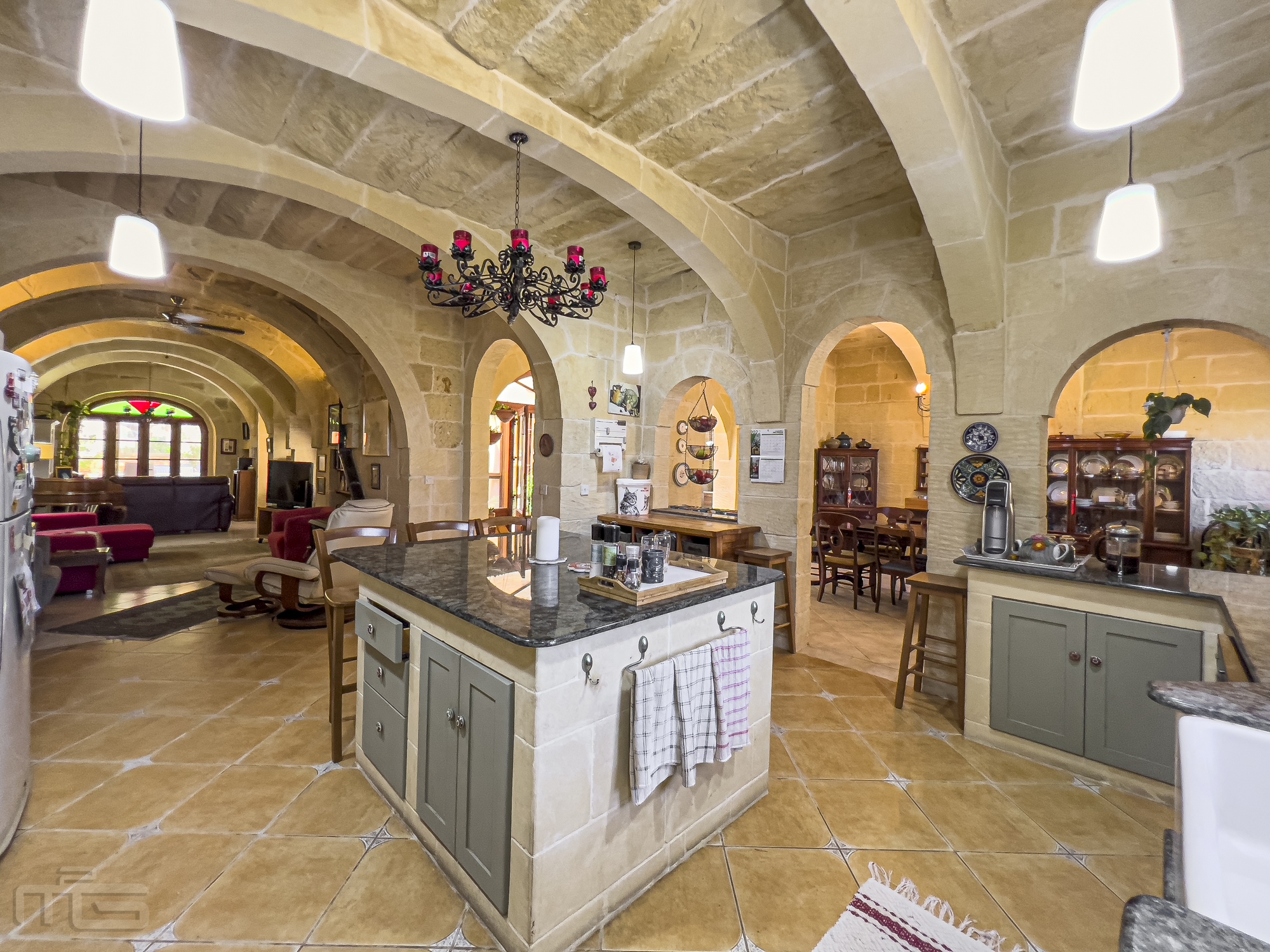 The longest has several traditional animal troughs features built into the walls, now with shelves above, and a wood-burning stove to add the flicker and warmth of dancing flames in winter months. Arranged around a tall inner courtyard which has pretty wrought-iron Juliet balconies on the first floor, these rooms all have a touch of fairy-tale magic.
The grandeur of this farmhouse continues upstairs where a wide landing has plenty of space for an upper sitting area. It leads to three bedrooms along the front of the farmhouse house in which traditional tiles add colour and character. In one it is rare butterflies that weave their way through the foliage of the in red, green and yellow which, in this castle-like home, could put you in mind of the briars of Sleeping Beauty's forest.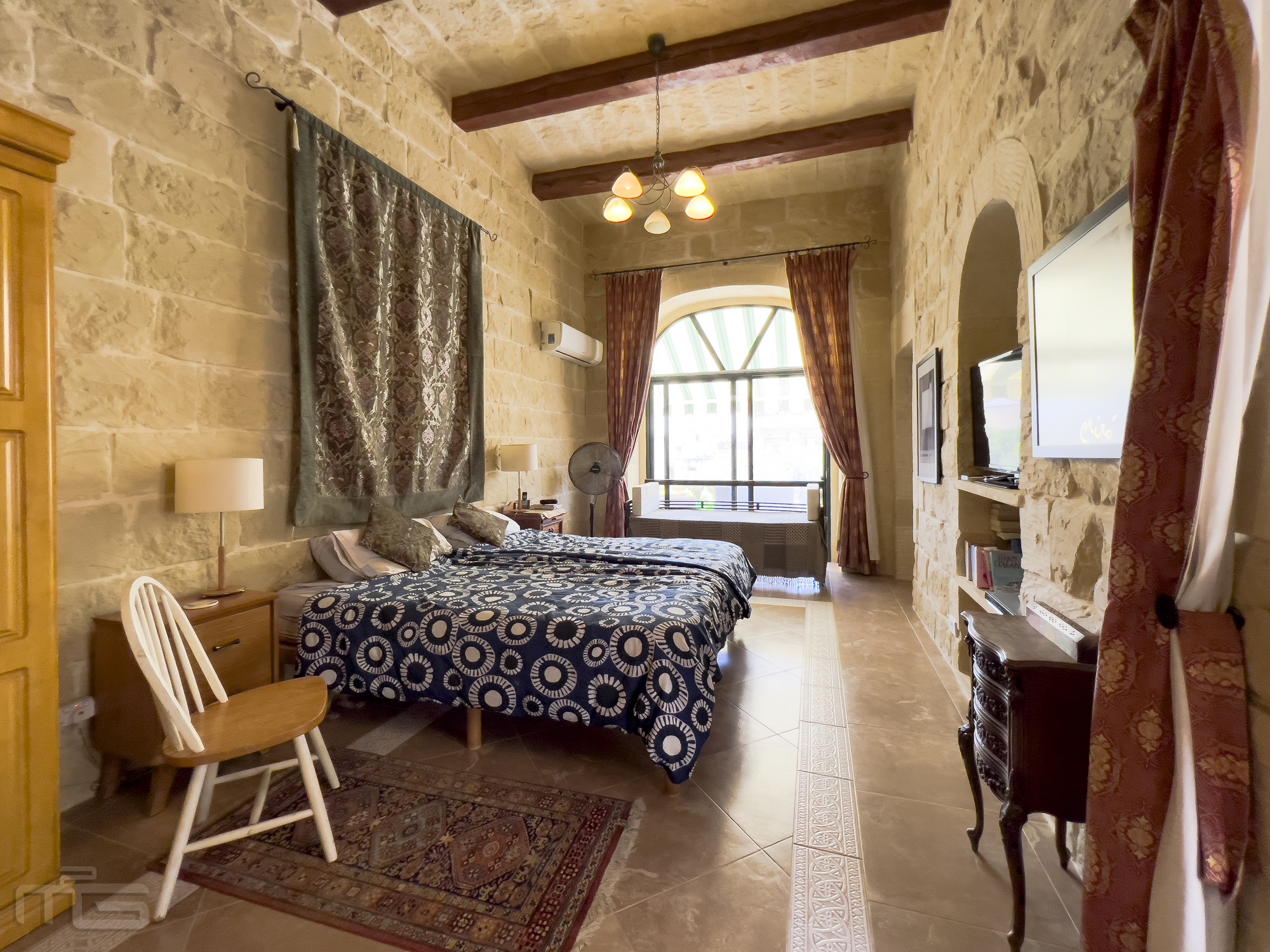 Adjacent, the master bedroom is at right angles to the landing: it's immense with views both from a balcony into the inner courtyard below and, from a large private terrace, out across the gardens at the back of the house. Beyond a en-suite bathroom with fossils in the stone walls, there's a fifth bedroom – which could equally be used as a lavish dressing room. It has its own external spiral stairs to the gardens, and directly beneath it there's a further stand-alone bedroom with en-suite and undercover access to the main house through an undercover garden area.
The farmhouse's gardens stretch from the inner courtyard into the first of several outside entertaining spaces where there's probably room for a Bocce pitch both lengthways and crossways.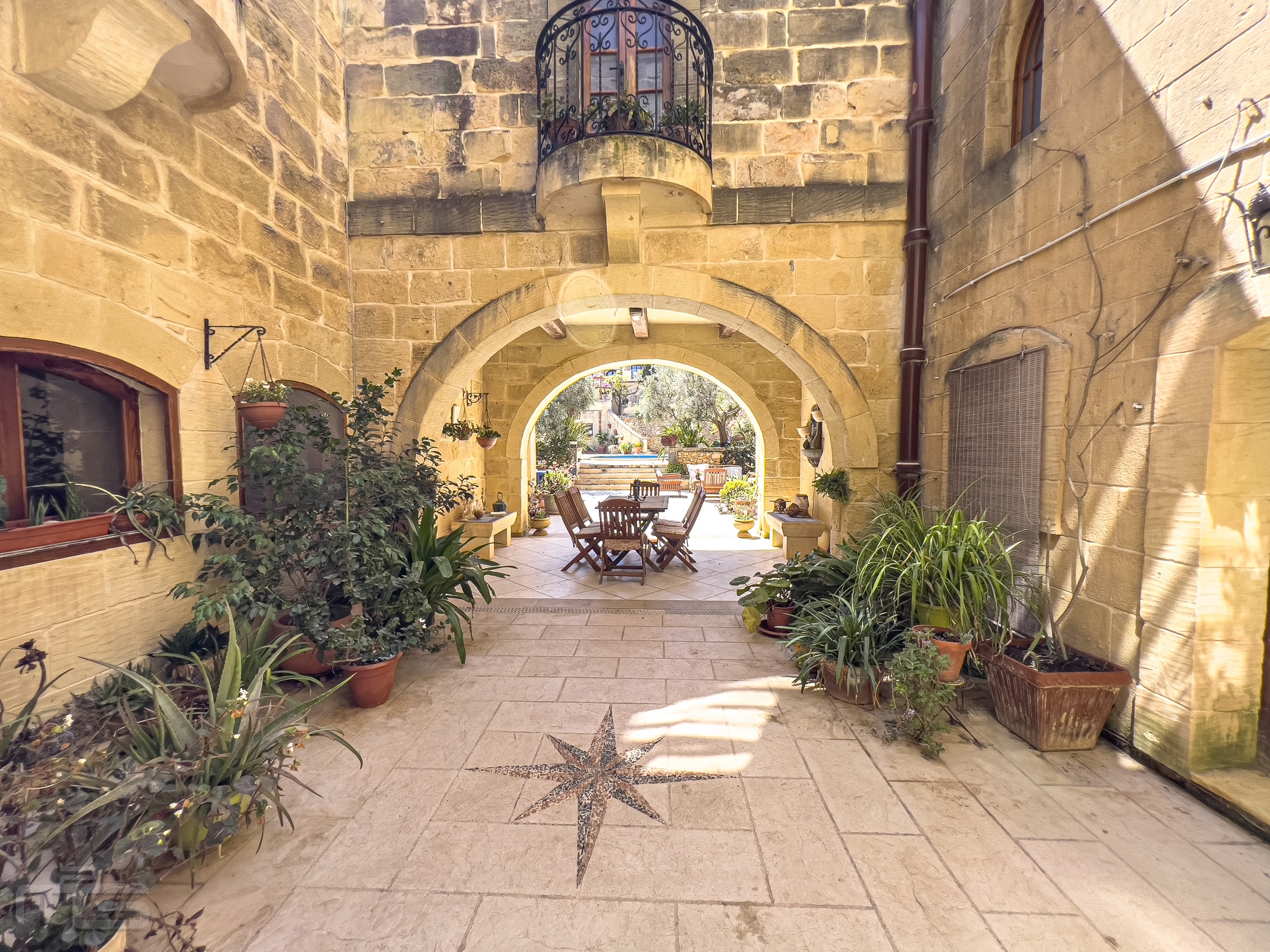 From here you then head up several steps flanked by matures olive trees to reach the spacious pool area as this large garden continues to stretch beyond. There's bouganvillea climbing in vibrant pinks, purples and orange on either side, Bird of paradise plants and other gorgeous foliage and more. It's a real surprise to find so much outdoor space tucked away so close to the heart of the village, and it doesn't stop here. On the far side of the pool, a flight of steps leads up to two separate garden areas in which to sit and look back across the pool and garden. One is a hidden corner of verdant green and the other has – particularly for an enclosed village garden – chairs in which you'll enjoy an unexpected sea view.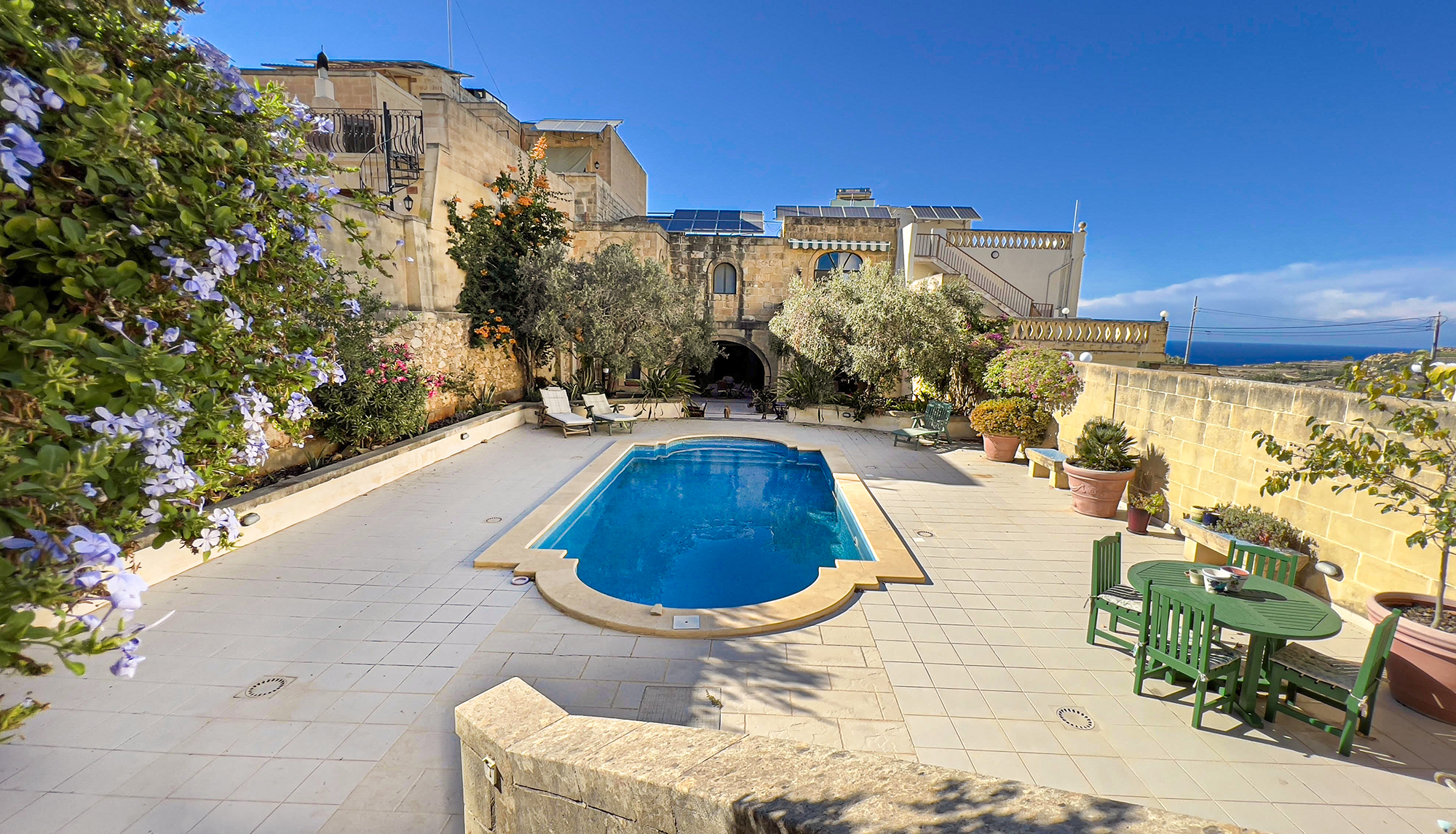 For a magnificent panorama of sea and country, the place to go is the roof, and proper stairs from the first-floor landing lead to a vast square roof space, via the washroom. Here the sea and the land stretch from west of San Dimitri's chapel on the North coast to Zebbuġ, Gozo's highest village, and Għajn Għammar in the East and on a cool winter evening the lights of Sicily twinkle along the far horizon.